LINE is a place where people dream the same dream — of creating a No. 1 service that is adored by countless users — and work together to achieve that dream. LINE explores new opportunities with the goal of becoming No. 1, then LINERs work to achieve this, both individually and as teams.

To turn seemingly impossible things into reality, LINE has constantly taken up challenges while understanding our users' ever-changing needs. We started as a search engine, but made a dramatic pivot to become a messenger, earning the support of millions of users. Based on that messenger, we are continuing to grow our connections with our users in many different areas, including gaming, fintech, and e-commerce.

As we've grown to become the global platform we are today, thanks to the love and support of our users, expectations for LINE have also grown and it is more important than ever that we fulfill our social responsibilities.
WOW=No. 1
WOW = "An unprecedented experience that you just have to share with others"
No. 1 services that lead the market and change paradigms always have a WOW factor. In other words, services become No. 1 because they pursue WOW and they create WOWs because they pursue being No. 1. Therefore, we LINERs must keep asking ourselves the question: "Is this 'WOW'?" This question is not limited simply to products and services. It is a value that all LINERs must uphold, no matter what organization they're a­ffiliated with or what duties they are in charge of.

True LINERs are those who work with determination and grit in their hearts to bring about WOW = No.1.
LINE DNA, LINE STYLE
LINE STYLE is simply the aggregate of all things "LINE," the characteristics that have been established through the accumulation of LINE's unique ways of working and thinking. It is, in short, our essence. The essence of who we are doesn't change, however the form LINE STYLE takes does change with the times, evolving to address values that are important to LINE in light of the latest circumstances — from LINE STYLE 1.0, which defined LINE-ness and announced the birth of LINE STYLE, to LINE STYLE 2.0, which elaborated and explained the existing LINE keywords, and then to LINE STYLE 3.0, which reorganized the keywords to improve understanding.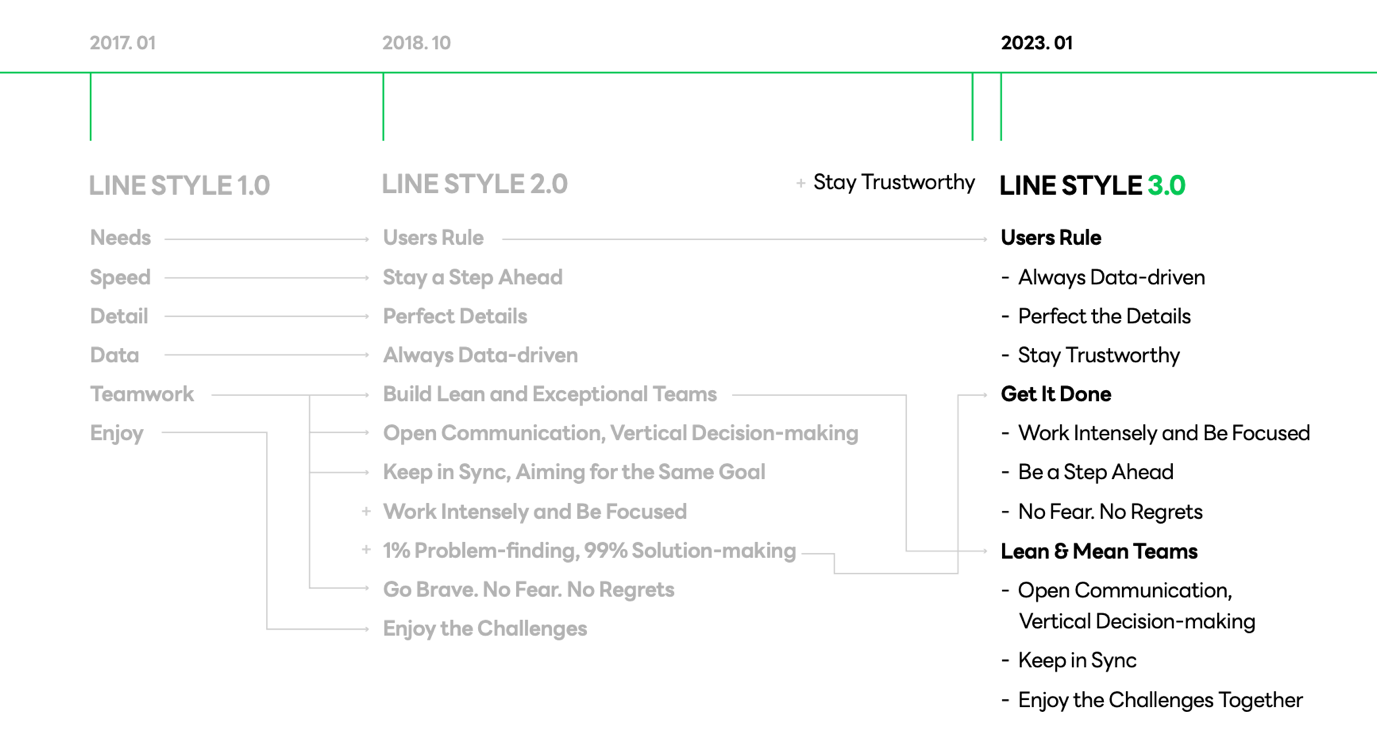 LINE STYLE 3.0 is divided into general directions that LINERs should follow and ideas about the ways realize those directions. As a result, LINE STYLE 3.0 is designed to help LINERs understand LINE STYLE more intuitively and apply it to their work.

Now, let's take an in-depth look at LINE STYLE 3.0 and explore how it serves as the standard for all LINERs.
LINE STYLE 3.0 at a Glance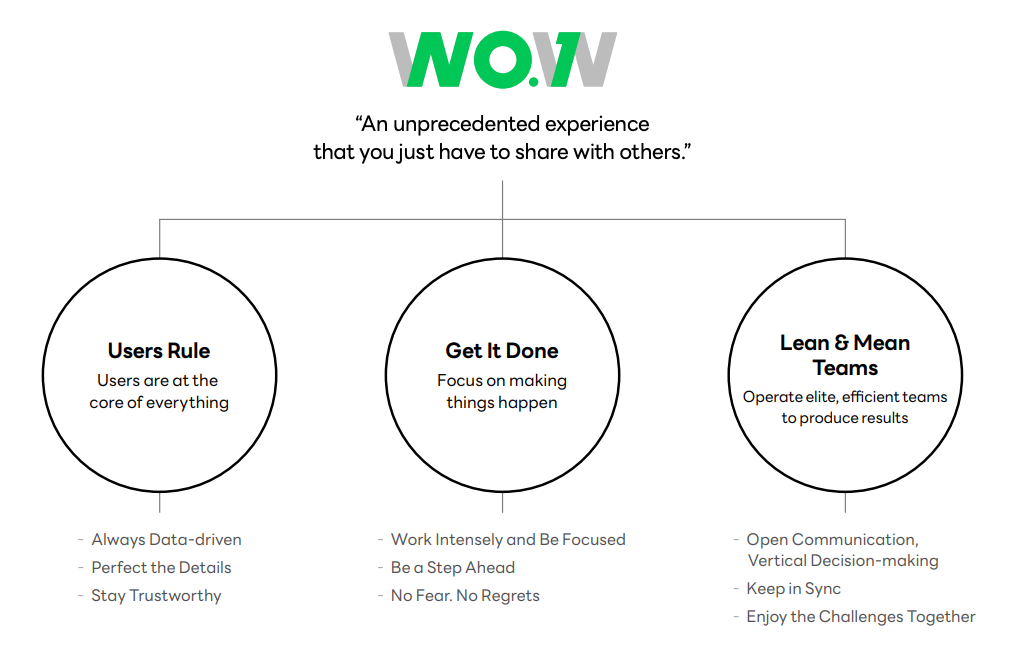 One of the big changes to LINE STYLE 3.0 was the addition of "Stay Trustworthy," which was added to the 11 existing LINE STYLE keywords to show the importance we place on maintaining the trust of our users. Since LINE has always made a point of responding to our users' needs faster than anyone else, we felt that adding this category reflected how this issue has grown as a priority to users around the world. In turn, this helped everyone to think in more user-centric ways, recognizing that the scope of LINE users has expanded along with their expectations.
We also selected three core directions to serve as the standard when LINERs are creating services at LINE, working as individuals, and collaborating as part of a team. Under those three general directions, the nine keywords were divided and grouped into threes, so that LINERs can put them into practice more readily.

Users Rule
Users are at the core of everything
LINE's goal is to make No. 1 services. Since services can only survive and become No. 1 through the interest and choice of users, users are the foundation and core of all LINE services. That is why you need to think from the users' perspective at every step creating a service, from start to end. You must ensure that the users trust LINE in every step of the service development process, from pinpointing user needs in advance to releasing distinctive services that embrace those needs.
Always Data-driven
First and foremost, you must identify user needs based on data, not on a hunch. If you misidentify what our users need, the foundation of all our services, then your very starting point is going to be wrong. Often user needs are diffi­cult to identify, so you can only uncover them when you analyze their data in depth, from different angles. Furthermore, user needs are always changing, so you must be attentive to their changes and keep your data up-to-date.
Perfect the Details
Once you have pinpointed the users' needs, you must apply them and create services with perfect details, like only LINE can off­er. We can only survive the fierce competition when we offer unique and distinctive user experiences that stand out from the cascade of alternatives. The work doesn't end with the release of a service. There is no guarantee that the users who were initially satisfied with a service will still choose it a year later. You must aim for a standard that exceeds their ever-changing expectations, observe their reactions, make the necessary modifications, and do what it takes so our users continue to choose us.
Stay Trustworthy
It is also important to ensure you maintain the trust of our users throughout the service development process. LINE was only able to grow into the global life platform it is today through earning the support and dedication of our users. That is why our continued growth depends on not only maintaining the trust of our users, but further strengthening that bond. As LINE has grown, the scope and level of user and stakeholder expectations have also grown. This is because the influence of our services has increased, not only with the number of users, but also with their breadth, encompassing users, shareholders, governments, local communities, partners, and LINERs. Accordingly, all LINERs should always be thinking in terms of "how" they are achieving their goals, not just "what" they're achieving.

Get It Done
Focus on making things happen
As a LINER, the job is, in effect, to always be solving problems. LINERs don't set their eyes on the difficulties of problems or challenges. Rather, they focus on solving such problems with grit and determination, doing their best to create solutions. There are always endless reasons why something can't be done. So, you need to dig deep, and find ways to accomplish your goals.
Work Intensely and Be Focused
In your work, you will face numerous problems to solve and, yes, each of them will be di­fficult. Therefore, you must prioritize your tasks and focus on solving the problem at hand. You can only solve problems when you properly allocate your time and effort according to the importance of each issue. What's more, , you will find that you can come up with new, out-of-the-box solutions when you're intensely immersed in the work, rather than simply "working hard".
Be a Step Ahead
Moreover, in an ever-changing global environment, it is vitally important that LINE stay ahead of the curve, working with agility to assess reactions and find solutions. You might miss the optimal timing if you wait until you have a perfect plan. When you execute first and then react to the unexpected and unknown while trying different methods of accomplishing your task, you will find solutions that you could not have foreseen while planning.
No Fear. No Regrets
Finally, you must boldly undertake all your tasks and keep pushing yourself, unafraid of failure. What we're aiming to do is necessarily challenging and tiring for anyone, but instead of succumbing to adversity, you should try to find meaning in those challenges and must move on. If you truly did your best—if you gave it your all and went beyond your limits—your time and effort will be still meaningful even if you meet failure at the end of the road. Or, even better, they can serve as valuable lessons for your next challenge. And, when you finally do succeed, you will feel an even greater sense of accomplishment.

Lean & Mean Teams
Operate elite, efficient teams to produce results
Lean & Mean Teams refers to creating teams that are e­fficient, with nothing in excess of what is needed, single-minded in their common objective. A hundred mediocre athletes cannot beat a team of 10 elite athletes who are determined to win no matter what. WOW can only be achieved when an organization is optimized for a given task, moving in perfect order like one body, battling with a true fighting spirit.
Open Communication, Vertical Decision-making
To be lean and mean, each team at LINE must have honest and thorough internal communications. In an open environment, team members will suggest ideas to find solutions, and the team leader will listen to them, set a clear direction based on their input, and take responsibility for those decisions. Team members must trust their leader's judgment and work together to achieve the team's goals, even if the decision differs from their own.
Keep in Sync
In the process of accomplishing a task, a common objective and direction must be shared clearly from start to end, and everyone must constantly exchange feedback. LINE is in a stormy sea full of waves. In order to overcome the waves, everyone on the boat must work together and play their part. If a leader does not offer a clear direction or explanation, or if the members don't do their best, ignoring the leader's instructions and rowing however they like, the boat will not arrive at its destination. LINE teams need to be able to quickly exchange opinions, adjust the direction according to prevailing conditions, and synchronize their progress with all members in real time, no matter what changes they encounter. Only then can you survive in an ever-changing environment, through quick and precise actions.
Enjoy the Challenges Together
The more di­fficult the challenge is, the more important the support of your teammates is. There's nothing like the feeling of accomplishment and pride you get after overcoming challenges together as a team, challenges you once thought were insurmountable when you were on your own. When teammates complement and encourage each other in di­fficult times, a bond is formed, creating a whole that is greater than the sum of the parts, an energy that you cannot create alone.
Learn more about LINE STYLE 3.0
LINE STYLE in LINERs' everyday lives
Since the initial release of LINE STYLE in January 2017, the LINE STYLE keywords have been very prominent in all the LINE offices, warmly reminding all LINERs of the concepts and ideas we most value. New LINERs see the LINE STYLE in the onboarding programs when they join the company, in the LINE STYLE guidebook (check it out here), and LINE STYLE can be found throughout the office, on PC wallpapers and screensavers, virtual wallpapers for video conferencing with coworkers, digital posters and more.

There's also a "LINE STYLE RELAY" campaign that identifies and praises LINERs whose work best reflects the LINE STYLE, and the Global WOW Project Awards, where employees determine which projects create the most WOW each year. LINE STYLE is with you every moment from when you start at LINE and as you grow as a LINER.
We look forward to growing together in LINE STYLE
LINE STYLE is not just an abstract value, but rather the foundation of every moment of your work as a LINER, of your practical choices and your judgments. For those who want to make users around the world say "WOW," for those who dream of creating No. 1 services together with other outstanding colleagues, and, above all, for those who think "LINE STYLE sounds like my style," please do not hesitate to join us. We look forward to hearing from you.