Every once in a month, LINE Indonesia holds an internal event, called Connect Day. It's arranged by HR, specifically to bring all LINERs together and get connected with each other. Since we are be busy every day with our own works and sometimes we don't have much time to catch up with each other; therefore, Connect Day has a purpose to be an opportunity to get to know each other, keep us together and catch up.
There are some updates that is being conveyed during this Connect Day, such as introduction of new hires, farewell to the resignees or even some happy news about LINER's marriage and/or new babies. We've embraced these news with the spirit of one whole LINE families. Also, this is also a moment for HR to announce several important news about the office in general.

Connect Day always has a specific theme in each month. For example, in April, we celebrate the Sports Day; in June, we have Environment Day; in July, we have Friendship Day; in August, we have Independence Day celebration; and by the end of the year, we have Year-End party for the Connect Day.

HR & GA team brings out the concept which relates to the specific theme on the month, and designs the event as a fun and engaging activity. Sometimes it is hosted directly by internal HR team, but sometimes it's also hosted by other division, in coordination with HR team.

It can be a sharing session, a mini workshop or games and competitions. Therefore, the engagement is not only one-way, but also two-ways interactive communication among LINERs.
And surely, the event always treats LINERs with the delicious snacks and beverage. Thus, we always set the Connect Day as a 2-hour long event on the last Friday of the month. So, it will be a sweet ending for the entire week from work and a god start of the upcoming weekend for LINERs.

By September 2018, the Connect Day had been hosted by LINE Games division. They made the live game competition between divisions, and it's streamed live into LINE Games's social channel. The event went superb and there were a lot of laugh and noises. It made us know LINE Games products better, and also was fun at the same time.

In May 2019, HR arranged Connect Day to be part of the meaningful event, by having break-fasting together with orphans from around at LINE office. All the children were brought to the office, played games with us, then had feast with us on the break-fasting moment. We cared and we shared; LINERs shared the happiness with others at this moment.

By December 2019, pre-arranged competitions were conducted among LINERs: LINE Got Talent. All LINERs were divided into group and each group had a mission to bring out the performance with the theme: "With Great Super WOW, comes Great Super-LINERs." Unexpectedly, we found many good talents among LINERs who can sing, dance and perform very well! LINERs came with super creative ideas, from the story line until the costume productions. The group winners not only received interesting prizes, but also felt great sense of accomplishment and good memories.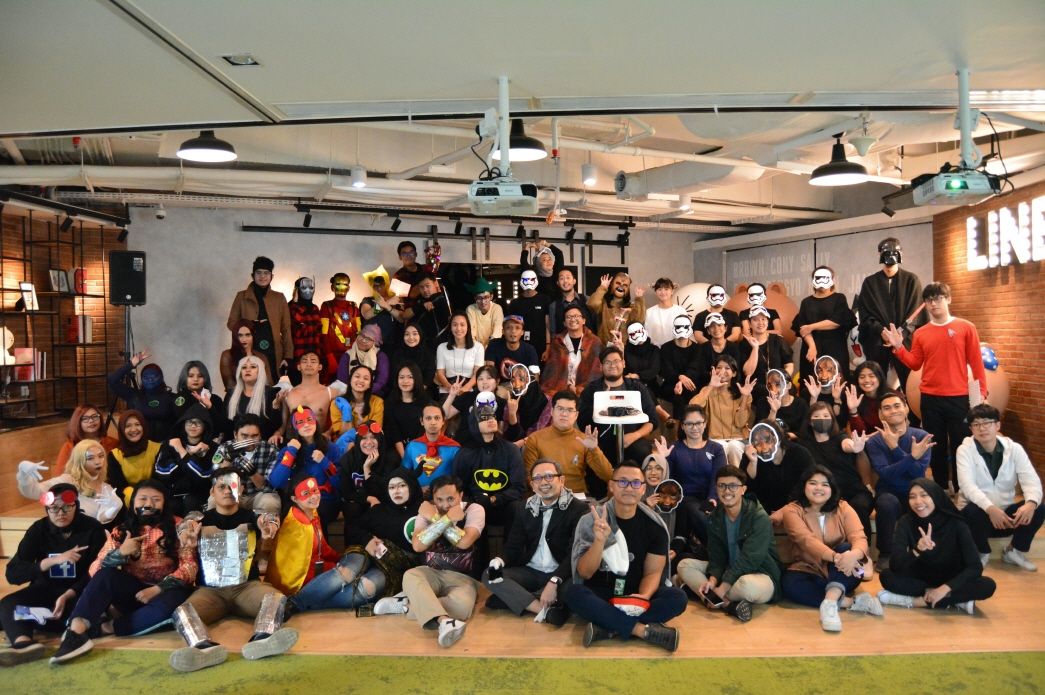 During the pandemic, LINE Indonesia has been working from home since March 2020 until further notice, It's such a difficult situation for us because we could not have face-to-face interaction among LINERs, and many LINERs miss the office, craving for the human interactions. Therefore, we arranged the Virtual Connect Day to bring LINERs together and keep everyone warm. Although it's not the same as the usual Connect Day, we arranged some group missions in each Connect Day to do engaging activities together.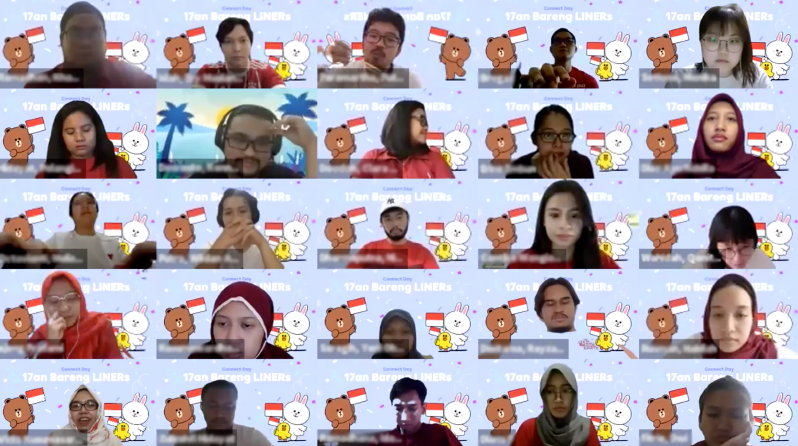 On August 2020, we celebrated Independence Day in the virtual Connect Day. In usual situation, Independence Day celebration should be full of fun games and competition, but we could not do it since we're separated by social distancing. Therefore we arranged the Virtual Connect Day with several competitions for LINERs.
LINE Indonesia will continue to arrange the Connect Day or similar events to maintain the closeness among LINERs in Indonesia, engage all of the LINERs and boost the motivations.
※ Please note that the details described in this article may not apply to all offices.