Product Planning
Daweon Choi / Product Management / LINE Plus
Daweon Choi joined LINE through the open recruitment program in 2018, bringing with her several years' experience living in Japan. Since joining LINE, she has been in charge of planning the data pipeline for the LINE Ads Platform. It started out as a small team, but Daweon put in a lot of time and effort and helping LINE Ads grow into what it is today.
A quick three-line summary
Daweon's job is to plan the data pipeline for LINE Ads Platform.
Daweon's LINE STYLE is "Keep in Sync, Aiming for the Same Goal!"
LINE is a place where we work with a global mindset, with many talented colleagues.
About work
Q

Please tell us about LINE's Display Ads (DA) Plan team and your work.

The DA Plan team designs and administers the overall operational process of the LINE Ads Platform. After an advertiser registers an ad directly via LINE and the ad is exposed to users, we design and operate the process that charges the advertiser. My specific job is data pipeline planning, which requires me to receive and process all data related to LINE Ads and relay the processed data to where it is needed. We aggregate data that serves as the basis for billing to charge advertisers and relay the content management system (CMS)-based data to them. The data referred to here means all kinds of data regarding the effectiveness of the ads, the cost spent on the ads, and the cost charged. My job involves back-end planning and managing the entire process. In fact, ads require background knowledge to make it easier for us to do our job. Therefore, I have spent a considerable amount of time studying ads since my early days at LINE, and my team members have also helped me a lot to make up for what I lack and joined me in a group study. I still spend time learning about it in greater detail. As a result, I have grown more attached to my work and I now feel fully satisfied with my job. (Laughs)
Q

Please tell us about your daily work schedule.

My work largely involves meetings with associated departments, planning, and responding to issues. I need to attend many meetings since my job requires me to collaborate a lot with a wide range of associated departments, and we frequently have to sync our work through the meetings and confirm the progress in our work. As for the advertising business, I often attend video conferences to work with the planners and business departments in Japan. If we need to make corrections in our communication, I make use of my proficiency in Japanese to help out. (Laughs) Through keeping in sync with these meetings, we make detailed plans, collaborate with the development teams based on the plans, and, once the development is complete, we respond to the service release, inquiries, and issues. Basically, since our team responds to issues during the QA stage prior to the service release and deals with data, we frequently need to deal with data-related inquiries sent from related departments.
Q

Is there anything you particularly consider important or different about the global aspect of your work?

Different countries where the service is released have different advertising tendencies and preferences. In Korea, since it is sometimes difficult to identify such issues, we take account of the opinions from the relevant departments as much as possible, paying special attention to the management history and background in making plans. That is why I tend to double-check what may appear obvious at first and I always try to re-check matters even after they've been agreed upon and understood.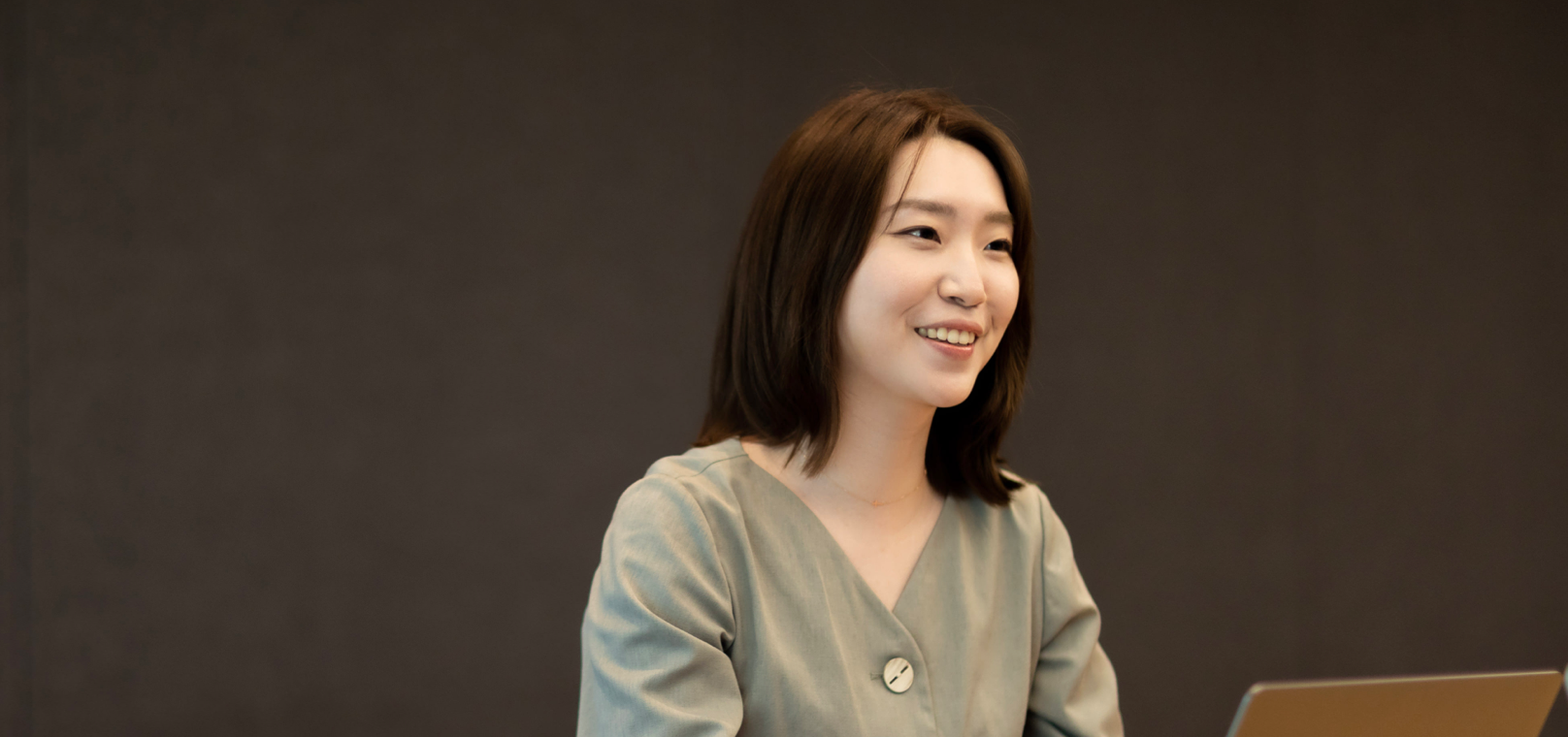 Experiences of failure and growth
Q

Is there any particular moment or opportunity where you felt you grew through your experience at LINE?

All moments I have experienced at LINE so far have helped me grow. Once, there was a big project where all the components on the platform had to work together to create and respond to new ad products, and since we had to share all the contents of the project for our work, I was able to see all other parts of the work and check the entire flow of the plan, which later helped me a lot in doing my job. Also, since my job involves back-end services of handling data for the platform, I work closely with the development team, and when I was finally able to understand all the technical terms right away at our meetings, I felt that I had gone up a level.
About competency
Q

What skills and qualities do you believe are necessary to perform your work well?

The advertising business is all about analyzing and making decisions based on data - which is why we demonstrate our performance through figures. Ad platform development is also based on the analysis of sales data and advertising indicators, and, to this end, what matters are the insights and data-based ways of thinking. Communication skills are also an essential capability. I believe that it is important to synchronize our goals and directions, share the progress as transparently as possible, and exchange our opinions on the projects that require collaborating with people of various occupations and nationalities.

Special experiences at LINE
Q

Is there any aspect of LINE that you think is particularly noteworthy?

The horizontal organizational culture, where even new employees can freely express their opinions, is amazing. At first, I didn't really understand it, but now it feels great knowing the company respects the capabilities of each one of us. Another benefit is our working system. I am really impressed by our telecommuting system, which allows us to work efficiently without being stuck in the office. Also, this year's newly introduced pilot program "Working in ___ for a month"* was amazing, and I would love to try that sometime in the future. As I started my career at LINE, I have become used to our excellent benefits, and when I talk about our benefits, my friends say that LINE sounds like a heavenly place to work. (Laughs) * This is a pilot program allows employees to work in a place other than their home or the office for a month. It is designed to let workers find the work system that's ideal for them. The results of this program will be incorporated into the "LINE Hybrid Work 1.0" system.
Wrap-Up
Q

Do you have any goals you want to achieve while working at LINE?

I would like to continue to engage in this sort of data management, and I also would like to find ways to upgrade the platform for users so they find it easier to use. Based on such capabilities, my goal is to offer advertisers richer and greater insights and propose efficient ways to operate.
Q

Any word of advice to those who interested in your line of work?

Anyone who wants to work in a global setting will find this line of work interesting. And, even better, you get to work with some wonderful and talented people. If you enjoy a working environment where we learn from each other and cooperate closely, you will always be welcome to join us!