Despite the challenges created by the COVID-19 pandemic, LINE continued to welcome many new employees throughout 2020. One of the big onboarding periods occurred last summer, from July 1 to 6, 2020, when we onboarded a great group of new hires, all without meeting anyone in person to ensure the health and safety of all. Let's take a closer at how we went about that!
#Preparation Introducing "Work Box", providing all a new employee needs to become a part of LINE

LINE's unique package of onboarding and training supplies for new hires is called the "Work Box," and they were sent to the homes of everyone right before they joined us. Included in the Work Box were work equipment, training supplies labelled with the dates they were to be opened for each training exercise, and exclusive gifts for new LINERs. Each box also contained several envelopes with numbers on them, so new hires get to enjoy the fun of opening them every morning in order.
"Work Box" Zoom-In

#Training

How has remote onboarding changed the introductory training process?
Even though these days we are unable to meet each other face to face, LINE still takes the remote version of our introductory training for new employees very seriously, provided networking and training sessions that are just as helpful and engaging as the old, in-person system. But, in addition to the challenge of helping our new hires get to know their colleagues over video streaming and making sure they get the knowledge they need to succeed at LINE, moving the training online also offered several advantages. Let's take a look at just how the remote onboarding system works.
Instructors in Space, Trainees on the Beach Under a Palm Tree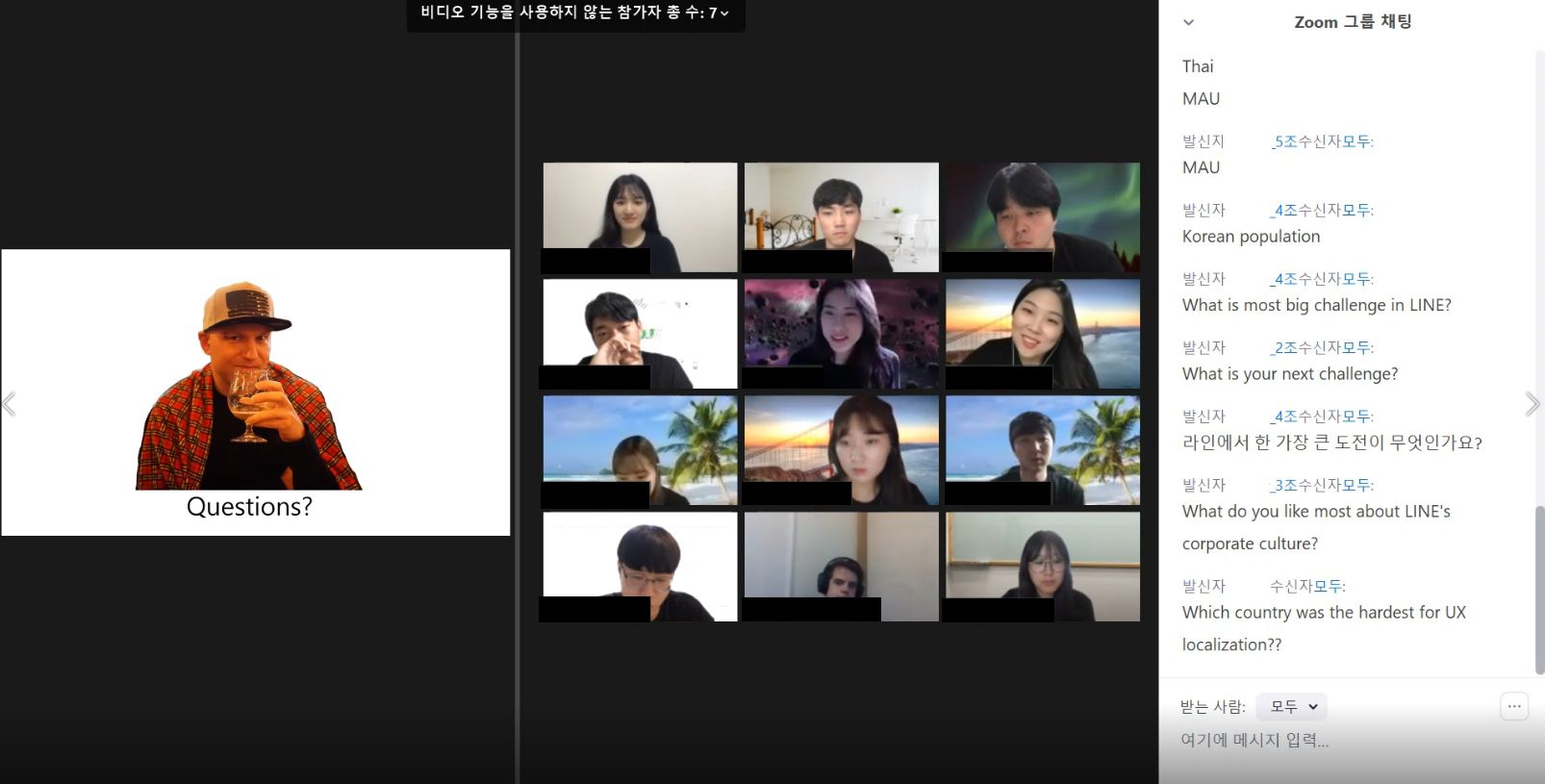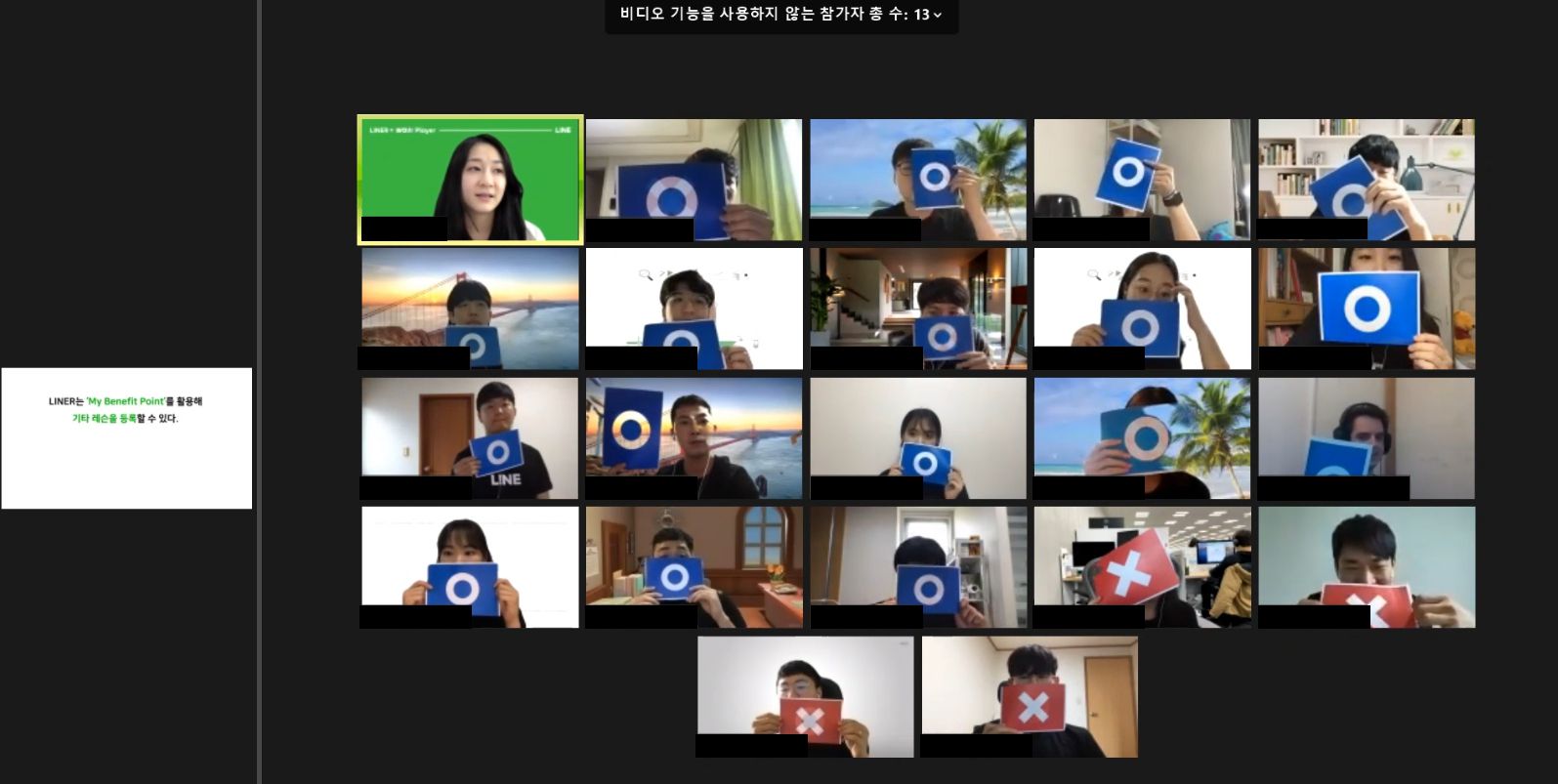 Although all the new employees were watching from their homes, everyone loaded a fun beach background to make it feel like they were participating from a warm, sandy beach. One instructor gave a brief introduction about the company from the nearby Andromeda galaxy, while another instructor talked about LINE's global challenges against the backdrop of an animated movie. Rather than sitting in an office, lecture room, or conference room, the new hires and LINE instructors both were able to get closer while relaxing in a familiar place. In addition, our LINE T-shirts and matching items contained in the Work Box further reinforced the ties between fellow colleagues. Although everyone was apart, they were together at heart.
Forget the Boring Lectures, We Offer Engaging Events
Most of us find it hard to spend too long listening to online lectures, just sitting at home, doing nothing. Imagine having to do that all day long, day after day for a week. Obviously, that approach would have created a lot of bored LINERs who probably wouldn't have learned much about the company. So, instead, we created a variety of training programs that let everyone participate and enjoy themselves.
One approach was to turn to competitions, providing opportunities for the trainees to go over what they learned each day, small group discussions where trainees could share their thoughts on various topics with their new colleagues, daily missions based on the various features of LINE Group Room, and real-time livestream chatting (with gifts going to everyone who participated)!
Capping the Training with an Online Completion Ceremony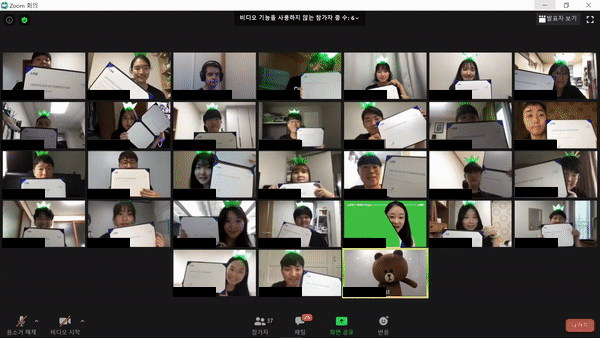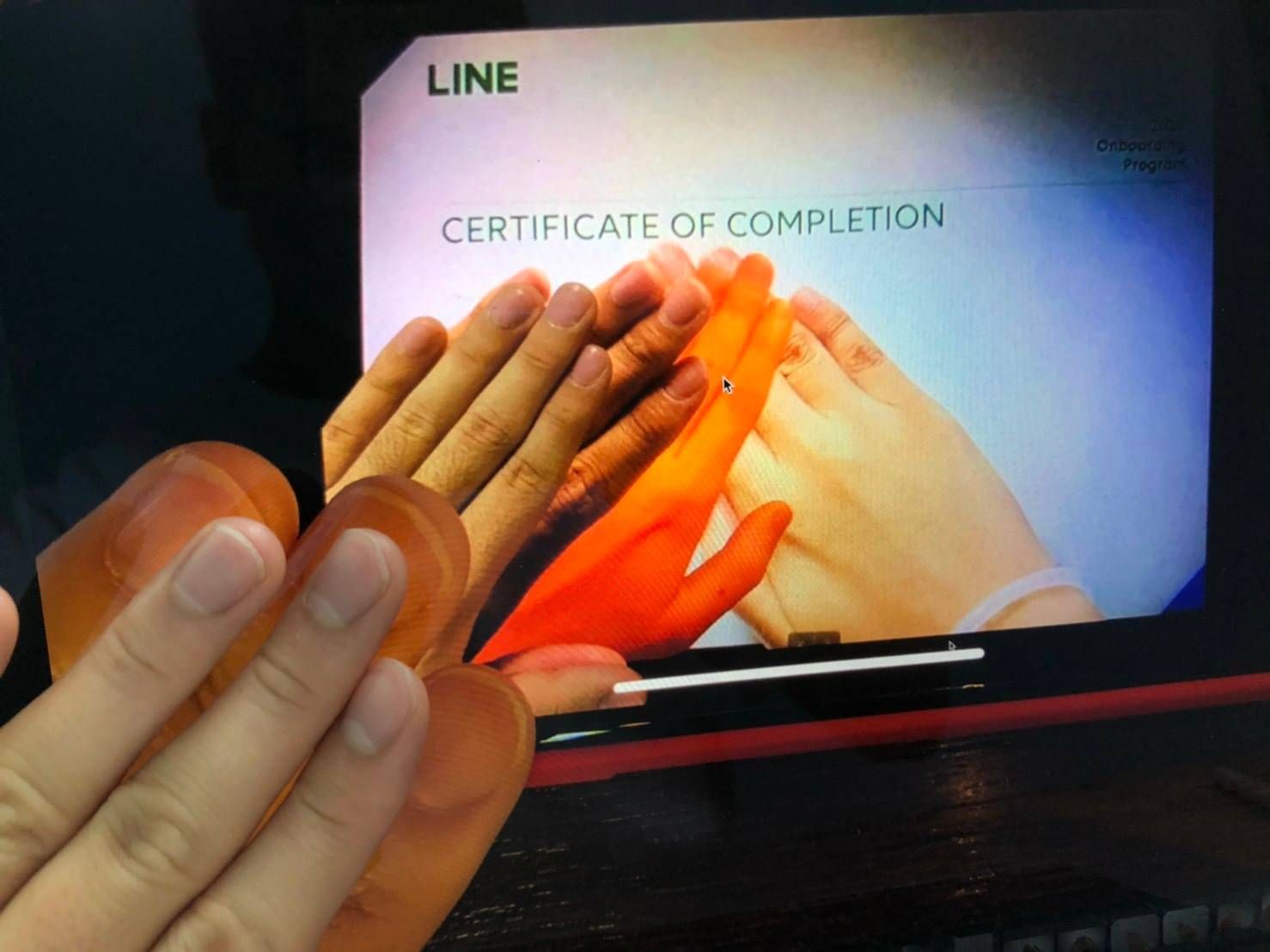 On the third day, the last day of the training, it was finally time to open the opaque envelope from the Work Box. Surprise! It turns out the envelope contained a certificate of completion for the training, along with a (sparkling) green crown that symbolizes LINE. After taking a group photo with their colleagues, with everyone holding a certificate with their names on it, and a celebration with the surprise guest BROWN, at last the trainees truly felt like real LINERs. Then everyone received a surprise welcoming message from the teams they are going to join, plus a picture of the team members.
#Colleagues Although far apart in distance, together at heart

While conducting training remotely can take some getting used to, all the new LINERs soon got the hang of it and enjoyed a range of fun team-building activities. In addition to the Main Team, where most of the training tasks took place, people also enjoyed a Meal Team, whom they ate lunch with every day, and a Common Interest Team, who they bonded with over their shared interests.
Among the fun and engaging activities LINE offered, there were drawing competitions, MBTI tests, tea time, and an in-house program called "30-day Goals," where people chose during which they set their desired topics, such as coding or working out at home each day and encouraged each other to grow those habits for 30 days. Through the screen of their thin monitors, everyone was able to make memories and grow closer to their new colleagues.
#Supplementary

Story Ever since the first online introductory training
Even though the official training period lasts a week, growing closer to your colleagues and learning about LINE is an ongoing process. Which is why we arranged for additional sessions for the newly graduated trainees, after one month and 100 days. Those new trainee alumni sessions help reinforce the lessons of the training week and deepen the ties they built with their new coworkers. And after the end of "LINE+100," the party celebrating their 100th day at the company, those young LINERs also got a special set of gifts, encouraging their healthy and brave steps forward as LINERs.
The 2020 introductory training for new LINE employees offered a special experience, where everyone was able to face a variety of new and different challenges in the wake of an unexpected remote training situation. Although meeting remotely may leave something to be desired compared to in-person teambuilding, thanks to the efforts and enthusiasm of all, this new approach to new-hire training ended up being more meaningful and memorable than ever.
Please give a warm round of applause for our proud No. 1 WOW Players, the young LINERs who joined the company under the current circumstances. We look forward to meeting the next WOW Players who will take on a bigger challenge on the global stage together with LINE!
※ Please note that the details described in this article may not apply to all offices.