Despite a pandemic, the KASIKORN LINE team keeps growing
In March 2020 when COVID-19 appeared in Thailand, the LINERs of KASIKORN LINE — the company that operates the Thai social banking service LINE BK — started working from home. At first, most people were fine with working from home, but as time went on, we increasingly missed the KASIKORN LINE office, where we used to work, play, and eat together. Collaborating virtually did not seem like a big deal because we didn't have so many employees back then.
But COVID-19 hit us harder than we expected. Working from home was extended again and again, so we decided we could not wait for the pandemic to resolve or to delay growing our team.
Despite the pandemic, KASIKORN LINE began hiring new talent aggressively. We doubled our headcount in just a few months. And, although it was challenging, we did our best to do our work and onboard our new personnel virtually.
Let's take a look at the interesting journey of Tayart (Kum), from our Business Strategy team, who was one of those new hires who had his first day with KASIKORN LINE from home!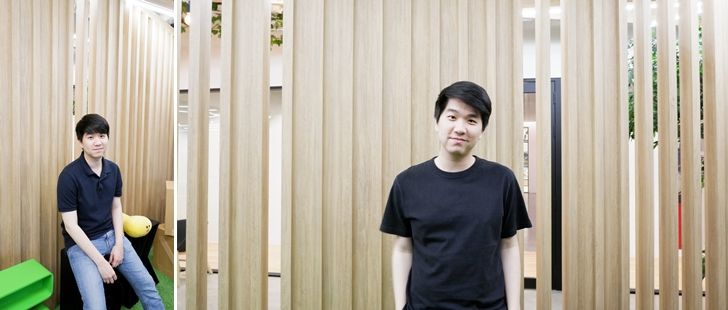 What is it like to start a new job from home?
Imagine how you would have felt if you were just about to start an exciting journey with a new company, but because of a public health crisis, the company decided to start a "Work from Home" system on your first day.
Well, let me tell you the story of how I did it, and how KASIKORN LINE made it so easy.
It was roughly a week before my starting date. I dropped by the KASIKORN LINE office to have lunch with my new boss, our CEO, picked up a new laptop and got the system set up. That day, our HR department introduced me to the other LINERs, all who were still having a good time in the office.
Then, one day before I was supposed to begin, I got a LINE message from HR that the company was switching to a Work-from-Home policy and no one would be at the office tomorrow. On my onboarding date! I started to get worried, wondering how I could get to know my fellow LINERs and collaborate effectively.
But it turned out, even though starting a new job working from home wasn't ideal, it went better than I expected. The first few days were chaotic, especially for me because I needed to collaborate with almost every team. Thanks to our employee directory (my best friend during COVID-19), I was able to reach out and introduce myself to other LINERs on each team with no problem.
After I started to settle in, working remotely was not an issue anymore. Although it could sometimes be hard to connect with colleagues on a personal level, KASIKORN LINE initiated a lot of activities to make our working-from-home life more engaging and inclusive.
How did LINERs stay close while social distancing?
Each day started with "Good Morning LINERs," when each LINER took turns giving a 5-minute morning call talking about anything to light up the day. The contents were entertainingly random, like a morning news update, LINE MAN food reviews, interactive games (free lunch if you win), and even horror stories.

LINERs also gathered twice a week for a "Virtual Lunch." The HR team arranged for all kinds of guests and activities to spice up our lunch time, including live music from a well-known Thai musician, a live session with a celebrity fortune-teller, a personality guru, and countless contents from our own LINERs (like latte art, face yoga, homemade cooking, and ergonomics tips for WFH).

In addition to those live activities, we also had a weekly mission in our private chat group, which we called "WFHchallenge #openingthedistance (but close at heart)." Each week, a photo competition was announced with a specific hashtag and for more than 20 challenges, LINERs competed by sharing photos/videos according to the topic. The most popular challenge was #StickerFromHome, with more than half of the LINERs from each team participating!
(Fun fact: LINERs spent a lot of company-provided LINE Credits purchasing tons of stickers that week)




And after the pandemic … ?
Finally, around July, the COVID-19 situation in Bangkok really improved. There were no new domestic cases reported for a few weeks, malls resumed their business, and our new office space was ready!
We welcomed back LINERs to our new office — located in Bangkok's newest co-working space, right in the heart of the city, just next to a BTS Sky train station — with a memorable BIG PARTY!!!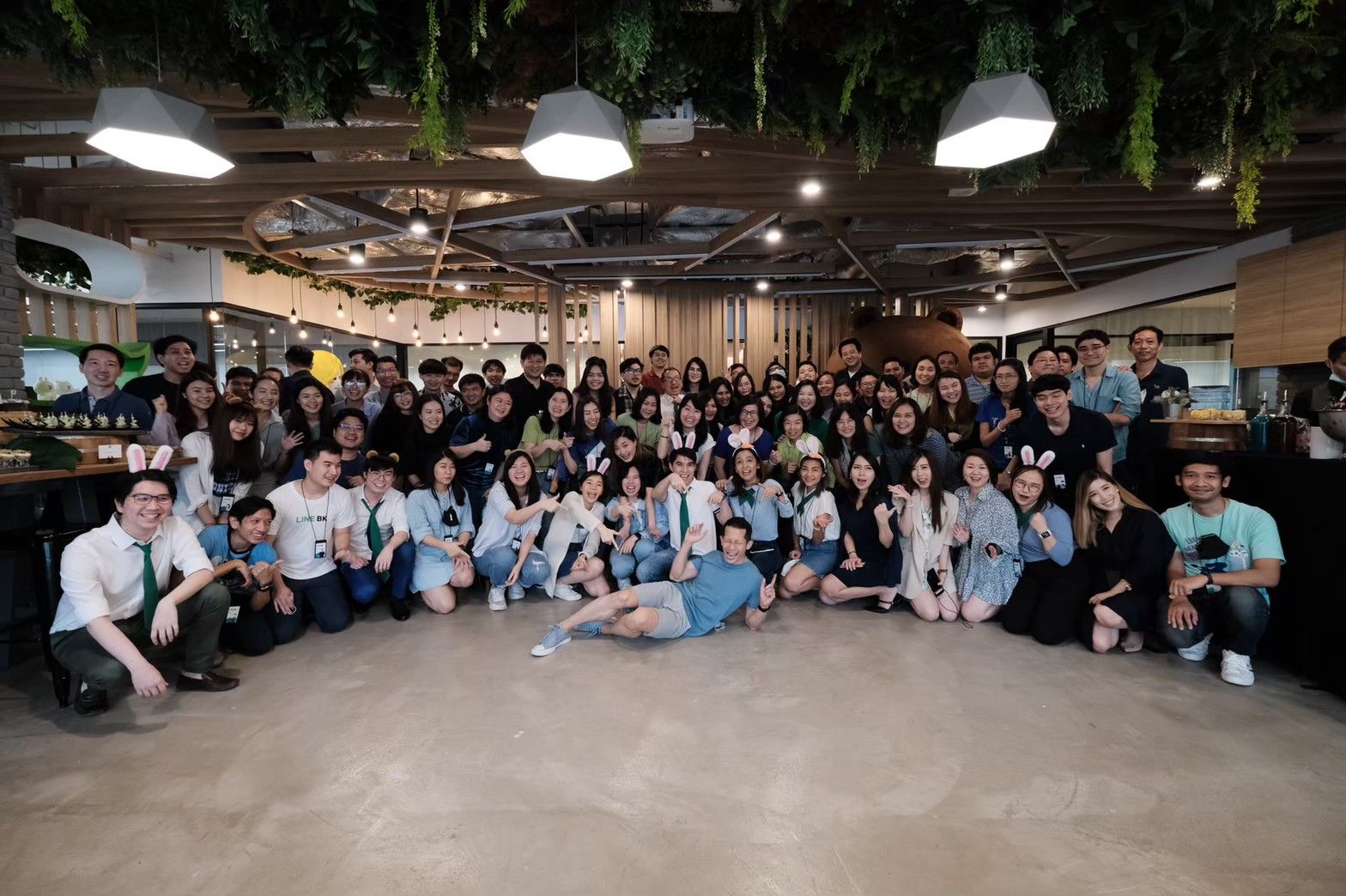 Since then, our spacious-but-cozy KASIKORN LINE home has been an excellent HQ. Our office provides all the essential facilities and support to enable LINERs to work at their highest productivity. Whether formal meeting rooms or casual discussions over coffee around our stylish lobby, a peaceful zone for working intensely or a private phone booth for an important call, we do have it all. Our home is even equipped for a full-stream press conference and exclusive blogger events!
From time to time, our familiar lobby can be magically transformed into a concert hall, food hall, a playground, or even a beer hall. We are also proud of our very own KASIKORN LINE bands, assembled by talented musicians from every team!
Our journey is still getting more and more interesting every single day. New faces become old faces, juniors become seniors, colleagues become friends, coming to work becomes meeting up with friends.
We value our differences and unique characteristics. We put ourselves in customers' shoes. We enjoy overcoming challenges. And we believe everything is better when we are together!
In addition, we also believe there are a lot more interesting individuals out there. Don't hesitate or doubt yourself. Introduce your uniqueness to us. We can't wait to get better together with you!
※ Please note that the details described in this article may not apply to all offices.